About Me | Memphis, Tennessee Makeup Artist Theresa Little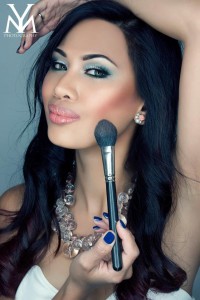 I have been in the fashion industry since 1998. During my first 6 years I was a model in the Southeastern Asia region, primarily in the Philippines . During that time, I realized that my true passion was cosmetology. I began by applying makeup to my friends. Then after realizing my capabilities, in 2004 I attended Ricky Reyes Learning Institute in the Philippines and received my Certificate in Makeup Artistry. The style of makeup in which I focused was Classical, Glamorous and Fantasy. I strongly believe that "Knowledge is Power," so I am continually broadening my skills in makeup application by attending classes. I realize this need as makeup styles change in the fashion industry.
In my work I add my own flare of style which is fueled by experiences and observations of the leaders in makeup artistry. When the stars are walking the red carpet, I'm observing their makeup in detail. I'm very observant of facial features and the appropriate makeup for the occasion.
My greatest ambition is to start my own cosmetic school, to have my own makeup product line, and to publish in cosmetology.
I am available for travel and service the following areas:
NASHVILLE, TN
FRANKLIN, TN
MURFREESBORO, TN
HAMPTON ROADS, VA